Accessing Western ROAMs
Important: Western ROAMs access with Pulse Secure is required for Remote Access to your office computer or Remote Access to our SSCRemote Remote Access Server. As of September 2021, Pulse Secure also requires MFA and you will be prompted for a Secondary Password. See below for instructions.
Western ROAMs (Remote Office Access Management System) is provided by WTS for secure remote access to resources on campus. This is a Virtual Private Network (VPN). Once you are authenticated onto the VPN, you can access Western resources.
A product called Pulse Secure is used to access the VPN. You will not be able to use the Remote Desktop Connection or map network drives from off-campus without it.
WTS has their own help provided from remote.uwo.ca. Be sure to read the PDF for setup instructions after installing Pulse Secure.
Note: This process has changed due to the COVID-19 pandemic. Please contact SSTS for assistance.
Access to Western ROAMs has been granted to many faculty and staff already. If you are not sure if you have access, please contact SSTS, or you can try to Login to remote.uwo.ca. If you do not have access, complete the Corporate Access form available from the ROAMs page.
Complete Section I and II at the top.
In Section III, Under WTS-Central Server Access circle Y for ROAMS.
Check General Roams User.
See the bottom of page 2 of the form for information on where to send the form.
Go to Western ROAMs at remote.uwo.ca and follow the link to Pulse Secure Downloads.
Using Pulse Secure on Windows
Pulse Secure will load automatically when your computer starts up. Find the Pulse secure icon

in your System Tray and click Connect next to WesternU.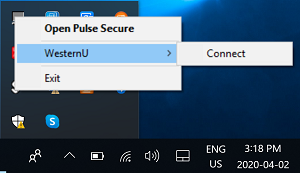 Go to Western ROAMs at remote.uwo.ca and follow the link to Pulse Secure Downloads.
Mac Configure Pulse Secure
To start Pulse Secure select the Pulse Secure icon from the Applications folder.
In the Connections window, click the plus (+) sign.
On the next screen, complete the following fields as shown:

Type: Policy Secure (UAC) or Connect Secure (VPN)
Name: WesternU

Server URL: remote-gate.uwo.ca


Click Add.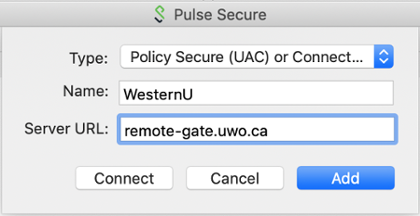 Using Pulse Secure on a Mac
Launch Pulse Secure from your Applications Menu.
In the Connections windows, click the Connect button beside WesternU.

You will be prompted to select a Realm. Choose UWO. Do not select WesternU-MFA.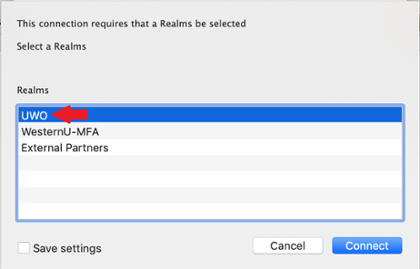 Enter your Western Username and password and click Connect. (Tip: Just use your username, NOT uwo\xxx or xxx@uwo.ca.)
When connecting to Pulse Secure, you will receive a Secondary Password prompt that looks like the following on Windows: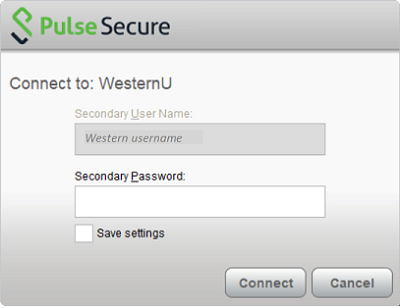 Or below on a Mac:

The Secondary User Name field will prefilled with the Western username that you used to login to Pulse Secure. The Secondary Password is the prompt for your MFA method. Type one of the following keywords:
push - This will send a push notification to your default MFA device via the Duo Mobile App. Check your device to approve the request.
phone - Duo will call your default enrolled phone to authenticate.
sms - This will send you 10 passcodes via SMS to your default device. You may get a message that Credential were invalid. You should still receive a text on your device and you can enter a passcode on the screen with the error to complete your secondary login.
Enter a 6-digit passcode from your DUO hardware token, one sent to you by SMS or text, or one generated by the Duo Mobile App on your mobile device.
If you wish to use a secondary device, you can type push2, push3, phone2, etc... Go to mymfa.uwo.ca to check your registered devices.