Media Equipment
Classroom Media Equipment
If your classroom does not have media equipment installed we can provide the following:
Mobile projection unit (media projector HD 1080p, PC computer, VHS/DVD player, BluRay player and audio system installed on a cart). Laptops can also be connected to these units.
Portable media projector (to connect to a laptop).
40" HD 1080P LCD Television and a VHS/DVD player, BluRay player installed on a cart
Wireless mouse/laser combination
Laser Pointer
Portable overhead projector
VGA to Mac adapters (to connect Mac laptops to projectors)
Document Camera
A colour document camera is available and can be borrowed for classes or presentations. It can be connected to a computer or laptop (VGA Connector) or media projector directly (VGA or Composite video connector) and can display live motion video, documents, experiments and 3D objects. A microscope adapter is also available. If you want to capture video or snapshots the document camera software can be installed. Make sure that you indicate that you want to capture the video or snapshots at the time of your booking. This is the ideal tool to use if you want to share a unique object or document with your class, without risking damage or loss. All students will see the item at the same time and the instructor can draw attention to specific details.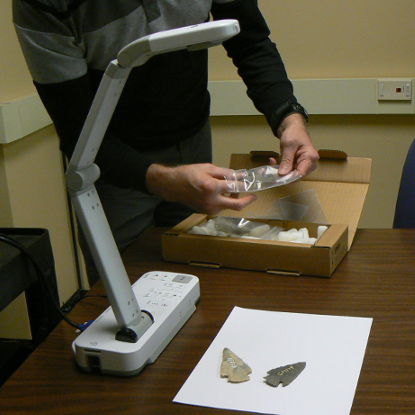 Faculty and staff in Anthropology can contact Ed Eastaugh if they wish to use the document camera. All others should contact SSTS.
Skype Mobile Unit
If you need to make a conference call with both video and audio, you can use a Skype computer / webcam setup that is available on a cart.  It can be used in SSC 1222 or it can be borrowed and used elsewhere in the faculty.