Mac Remote to SSCRemote Service
SSCRemote Remote Access Service for Mac
This Remote Access service is intended for Social Science Faculty, Staff and Graduate Students who want to use SSC Network software from a remote location. If you have your own Windows based office computer, please follow the instructions for Remote Access to your office computer.
Step 1: Request Access and Get Setup
The Remote Access Service lets you use SSC Network software from any remote location. For example, you can run software such as SPSS or Stata. See pre-installed software resources to see what software is installed on SSCRemote.
Data may be stored on your SSC Network H: or shared folders on P: or W:. Or, using the Microsoft Remote Desktop client described below, you can use your local (home) disk drives and printer directly from the remote access server.
You must be a member of the Remote Access Service group. Faculty, Staff and Graduate Students should complete the online application.
If you wish to use SSCRemote from off campus, you must have Western ROAMs access using Pulse Secure. If you do not have ROAMS access, please see Accessing Western ROAMs.
You will be prompted for Multi-factor authentication (MFA). You can manage your MFA settings at mymfa.uwo.ca.
In order to access the SSCRemote Remote Access Service, you are required to login to Western ROAMs using Pulse Secure at remote.uwo.ca. These instructions assume that you have already applied for and been granted Western ROAMS access, and that you have installed and configured Pulse Secure. 
Install and Setup Microsoft Remote Desktop
Mac computer users must download the Remote Desktop Connection software from the Mac App Store. Search for Microsoft Remote Desktop. Download and install this free software on your Mac computer. If you wish to access local folders on your Mac, follow the instructions for using local resources below.
Run the Microsoft Remote Desktop program.
Click on the + and choose New PC.
For PC Name, enter sscremote.uwo.ca
You can choose to have it prompt you to log in every time, or you can enter your User account credentials.
Give it a Friendly name of SSCRemote or the name of your computer.
Use the default entries for the remaining fields and click Add.
Connect Local Resources
A particularly useful feature of Remote Desktop is the ability to map local resources, such as a folder on your computer, or your printer, to the remote computer.
Click on your SSCRemote PC in Microsoft Remote Desktop.
Click on the pencil icon to edit the connection.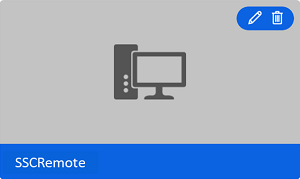 Click on Folders and browse to your folder.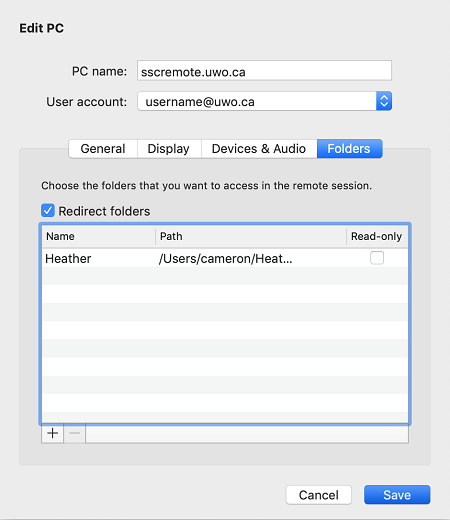 Use Devices & Audio to redirect your local printer.
Use Display to manage your display settings.
Step 2: Work on SSCRemote
Now that you have everything setup, you should be ready to run a Remote Desktop session to the SSCRemote Remote Access Service.
You can skip this step if you are on campus.
Launch Pulse Secure from your Applications Menu.
In the Connections windows, click the Connect button beside WesternU.

You will be prompted to select a Realm. Choose UWO and click Connect.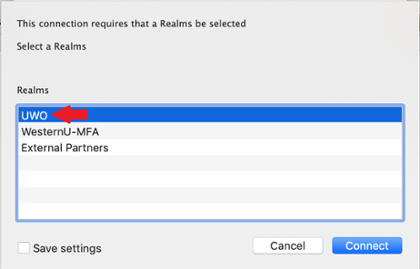 Enter your Western Username and password and click Connect. (Tip: Just use your username, NOT uwo\xxx or xxx@uwo.ca.)
When connecting to Pulse Secure, you will receive a Secondary Password prompt. This is for Multi-Factor Authentication. See Accessing Western ROAMS for this process.
Launch the Microsoft Remote Desktop app from your Applications menu.
Select the SSCRemote option from your PCs window.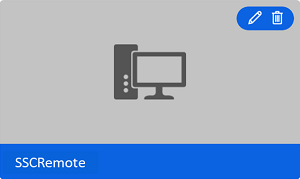 Depending on the option you chose during setup, you might be prompted now for your username and password. Enter your username as username@uwo.ca.
During the login process, you will see a DUO prompt for MFA.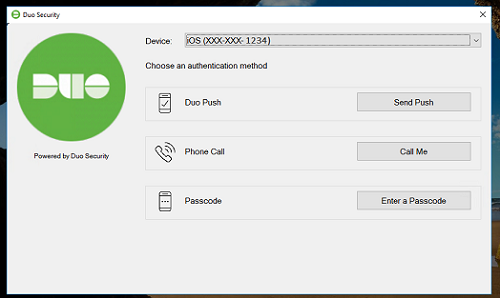 After you complete the MFA process, you should be logged in successfully.
If you connected a local folder, it will look like the following.
When you are working in the Remote session it's very similar to working on a computer on the SSC Network.
Network Drives
All Faculty, Staff and Graduate Students have their own personal H: drives that will be connected during your session on SSCRemote. If you have a shared administrative or shared project folder, you will also have a W: or P: drive connected.
Switching between computers
You can switch back to your local computer by clicking on the green button on the Microsoft Remote Desktop window at the top. To return to the remote session, click on the green button on the Microsoft Remote Desktop window to maximize it, or click on the minimized app in the Dock.
Printing
You can choose to print to a printer on your office computer. There is no network printer connected to SSCRemote. Alternatively, you can print to PDF files and save them locally to print them.
Copy and Paste
The copy and paste feature can be used to move files, blocks of text and images from the Office Computer to your Local Computer or vice versa. When working on your local Mac, use Command-C for copy and Command-V for paste. On your Office computer, use Control-V for copy and Control-V for paste.
When you are finished working you should logoff SSCRemote.
To Log off, click the Start icon, click the head and shoulders logo, and then click Sign out.
Note: Microsoft Remote Desktop will show an image of the last window before you disconnect from your session.
In the Pulse Secure window, click the Disconnect button beside WesternU.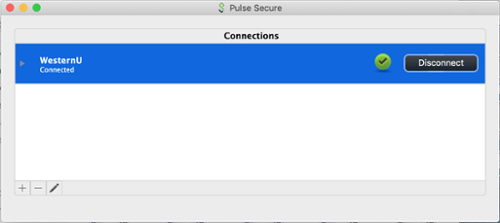 The purpose of the Remote Access Service is to make some specialty software available on the SSC Network accessible to you from remote locations, or from your Mac computer. It has some differences from working on a normal Windows computer.
How do I request access? You have to apply for BOTH Western ROAMS access and access to SSCRemote.
Is there a web browser? If you need to download a file from the web or access a file from your email, you need to do that on your local computer. Save the file on your local drive, and either connect a local folder (see Setting up your Local Computer above) or copy and paste the file from your local computer (see Working in the Remote Session)
Where is Microsoft Office? You should use your local copies of Office. If you do not have Office, please see the Microsoft Campus License Agreement to see if you qualify for a copy at home or on your laptop.
Where can I find SAS or ArcGIS? SAS and ArcGIS are covered under a site license agreement. You can install these products on your own computer. See Western Site License Software.
If you need assistance with the items discussed in this web page, please contact SSTS.