Teaching and Computing Rooms
Social Science Technology Services (SSTS) manages four public access computer rooms available to SSC Network account holders. These facilities are located in Rooms 1014, 1014B, 1020, and 6300 of the Social Science Centre. Room 1020 may be reserved for teaching and special events. Guest access to non-Social Science users for external bookings can be arranged when appropriate.
All rooms are equipped with Microsoft Windows computers, currently running Microsoft Windows 10 Professional 64-bit. The computers are connected to the SSC Network and the Internet. Users of the computing rooms have access to the complete range of pre-installed software, and software offered via the SSC Network Menu.
These rooms are also equipped with security and surveillance hardware for the protection and safety of students. Please do not compromise the safety of others by opening the door to unauthorized users. (Student identification is required at all times.)
The hours of operation and terms of use vary from room to room. Some rooms may be unavailable due to hands-on instructional or use.
Note: When the rooms are not open, access is available using the card reader located outside of the entry doors to each room. If you are a valid SSC Network user, your Western One card should work with the card reader.
Out-of-faculty or conference groups should consult the Room Reservations Rates.
---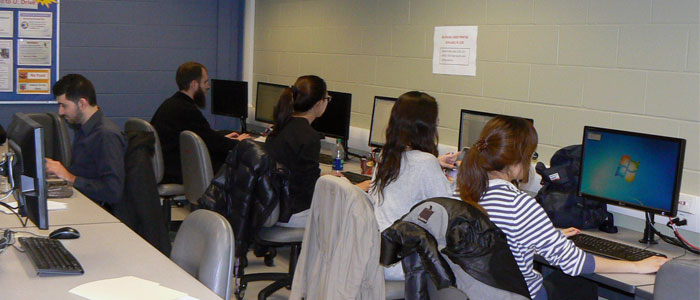 Undergraduate/Graduate Computing for Faculty of Social Science Students
Features:
13 high-speed Microsoft Windows computers with 19" LCD monitors
1 Document scanner
BW & Colour High quality HP laserjet printers controlled by PaperCut print release software. See our printing page for more information.
Microsoft Windows multimedia instructor station connected to an overhead projector
High-resolution ceiling-mounted projector with embedded speakers
Projection screen
Seminar-style table with six seats (total room capacity is 19 seats, including instructor station
White board with erasable markers
Adjustable overhead lighting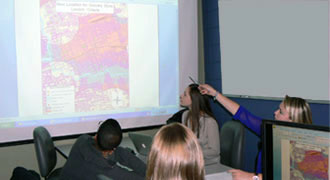 SSC 1014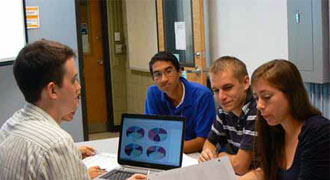 SSC 1014B
Rooms 1014 and 1014B are two schedulable, student meeting rooms for Faculty of Social Science course-related group project work.  Drop-in use of these rooms is welcome, but reservations do take priority.
Thank you to the Social Science Student Council for the funds provided to create these rooms for Social Science Students.
Specifications for 1014 and 1014B
Features:
Eight seats and a table
One computer station with high speed internet, DVD Reader and USB port
Ceiling mount LCD projector (turn off projector before leaving)
Projection Screen
Whiteboards (use only whiteboard markers)
Wired/wireless internet connections and AC power for laptops
Ability to connect up to four student laptops or smart devices to the projector (see below)
24/7 card access (1014 only)
You can connect your PC or MAC laptops, Apple or android devices wirelessly to the video projector in each of our Student Group Project Meeting Rooms (SSC 1014, 1014B). Using the Quad view on the Crestron wireless media presentation device, up to four devices can be displayed simultaneously, enabling your group to compare and share your presentation or collaborate on a project. For your convenience, simple instructions on how to connect your device to the video projector are provided in each room.
How to Make a Student Group Project Room Reservation
All reservations for Rooms 1014 and 1014B must be made through the on-line Room Booking website which you can access using your Western username and password.  Passwords will only work if you have valid SSC Network access. 
Note:  Should you have difficulties using the on-line reservation form, please report the problem to                                         ssts-help@uwo.ca.
The Interdisciplinary Graduate Computing Lab in SSC 6300 is a 24 hours/7 days a week computing room available to any graduate student, faculty, or staff member with valid SSC Network privileges. The room is accessible using your Western One card in the card access reader located outside of the entry door.  Additionally, many departments provide computing rooms for their graduate students and staff. Check with individual department administrators for details.


Interdisciplinary Graduate Computing Lab
Features:
17 high-speed Microsoft Windows computers with 24" high-resolution LCD monitors
High quality HP laser printer controlled by PaperCut print release software. See our printing page for more information.
Ceiling mounted video projector with HDMI input and electric motorized video screen