Winter 2016 Volume 17, Issue 1
SSTS New Main Office
by Heather Stevens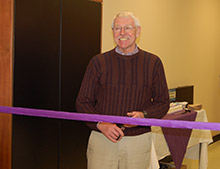 On March 26th, 2015 we celebrated the Grand Opening of our newly merged department with an Open House. Many of you joined us for cake and coffee, a tour of our new space and a review of our services. Brian Timney, then Dean of the Faculty of Social Science, cut the ribbon to mark the occasion.  
In May 2014, the staff of Social Science Network and Data Services merged with the staff from the Psychology Technical Shops to form Social Science Technology Services (SSTS). In an effort to better serve our clientele and to better utilize the skills of our newly merged team, we renovated the space in the former Psychology Technical Shops.  Two of our staff members have been moved to this location, and the SSTS main office is now located in SSC 1228.
As a result of the blending of our two areas, we have new services that are now being extended to the entire faculty. They include:
You can read about our complete list of services on our website: ssts.uwo.ca.
Please note that the majority of our services are offered at no charge to members of Social Science unless indicated otherwise. One of the benefits of the merger is that, with the addition of more staff, we are able to address your needs faster. We recommend that you cont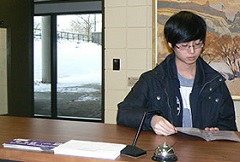 act us first for all of your computer needs. Psychology members should go directly to the Receiving window by SSC 1226 for services that Rick Cornwall offers only to Psychology, such as exam kits.
Our new main office, SSC 1228, is well-marked with signage and is located in the corridor directly across from Geography's glass display case on the first floor of the Social Science Centre. As before, you can reach us via ssts-help@uwo.ca or by calling our central number at 519-661-2152 or extension 82152.
We look forward to continuing to serve your needs.