Winter 2016 Volume 17, Issue 1
Lenovo Tinys
by Kam Abado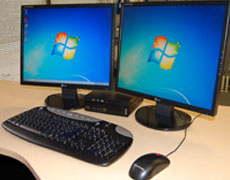 The last few bulk computer purchases made by Social Science Technology Services were comprised of Small Form Factor (SFF) Lenovo ThinkCentre M Series Tiny Desktop (Tiny) computers.
The new Tinys were tested before we switched from the old bulky dust-magnet desktop computers, that sat whirring and purring at your feet. SSTS and other IT members in the Faculty conducted multimedia benchmark testing. This testing demonstrated that the Tinys are capable of handling all aspects of our current software applications while coping particularly well with the multitasking section of the benchmark tests. In addition, they proved to work well in our network environment.
The Tinys measure less than 20 cm x 20 cm x 6.5 cm (L x W x H) and come with an i5 or i7 Processor; 8GB or 16GB of RAM; a Solid State or Hybrid drive; 6 USB Ports; a DVD-RW drive, and dual video connections.
We have deployed over 120 of these computers throughout the Faculty and have not had any complaints. The only complaint might be that you no longer have a computer under your desk, to rest your feet on!