Winter 2016 Volume 17, Issue 1
Computer Replacement Cycle
by Heather Stevens and Kam Abado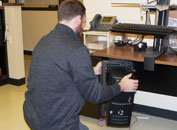 The Faculty of Social Science has over 900 desktop computers and laptops that are actively being used on the Social Science Network. As of 2014, Social Science Technology Services has been managing a five-year desktop computer replacement plan for the Faculty of Social Science. The desktop computers that are being replaced over this five-year period are for departmental faculty and staff offices; student computing labs; departmental classrooms and seminar rooms.
We assess priorities for replacing computer systems based on our inventory records and information gathered from departmental Administrative Officers. We work closely with the Dean's Office to determine when bulk computer orders can be placed based on budget. Once the new computer systems arrive, we work to systematically deploy them, according to the priorities established during the needs assessment.
Centralization of computer purchases is more cost effective for large volume orders and allows us to standardize the equipment that is used within the faculty.  Standardizing the computer hardware equipment increases our efficiencies in service and support. Also, it enables us to stock a limited supply of spare parts for faster repair turnaround reducing user downtime.
A regular computer replacement cycle provides our users with more reliable computers and it allows them to use up-to-date software and peripherals. With more reliable computers, our service to the Faculty of Social Science community can be enhanced to provide support for other issues and projects.
The Faculty funded replacement cycle does not include research funded equipment; however, Faculty of Social Science researchers are encouraged to consult with us before making computer hardware and peripheral purchases, for the reasons mentioned above. We will work with you and with Western's Preferred Vendors to find a suiitable solution for your purchase. Please email ssts-help@uwo.ca, or call x82152 to arrange for an appointment.