Survey Services and Participant Testing Facility
Peter Fewster and Steve Rumas
SSNDS provides a range of professional services to the Faculty of Social Science to support survey focused research, including a new onsite computer lab facility in SSC 1038 that provides participant privacy for conducting multiple person testing.
Participant Testing Facility
In the spring of 2006, Julie McMullin, Associate Dean Research, Social Science, formed a working committee to articulate the consolidated departmental needs for a specialized facility for supporting survey research and for conducting participant testing and other experimentation using software interfaces for response capture, measurement, simulation and gaming.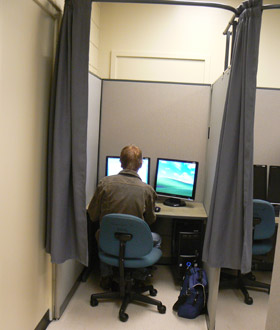 A seed grant from the Provost, combined with funds from the Dean, assisted with the construction of this faculty-wide facility. The facility has computers in private cubicles with LCD flat screen monitors (some with dual monitors). One station has wheelchair accessibility, and also contains a high end scanner with automatic document feeder. A laser printer completes the complement.
Social Science researchers may reserve SSC 1038 for participant testing by calling the SSNDS main office (SSC 1228) at ext. 82152. Reservations will be based on room availability.
Survey Software
For those who wish to carry out a survey from inception to analysis, Snap 9 Professional is available for installation from the SSC Network via Add/Remove Programs. Snap is a suite of integrated software programs for questionnaire design, publication, data collection and analysis. In addition to the core product for designing questionnaires, the following modules have been added:
Internet Module. Publish questionnaires; collect and analyze respondent data from e-mail and web surveys.
Scanning Module. Read respondent data from paper questionnaires and forms. A scanner has been set up in SSC 1038 for this purpose.
Customized Surveys
SSNDS has customized over 20 online surveys since 2001. The sorts of customization have ranged from straightforward to complex. Examples of our surveys follow:

In September of 2006, a four-year longitudinal study was begun on the relations between drinking patterns, depressive symptoms and experiences of interpersonal conflict of first year university students. In addition to a baseline questionnaire, students participated in 26 weekly questionnaires and are currently participating in 24 monthly questionnaires. Access to each questionnaire was managed through login credentials and was restricted to certain reporting periods.

In the spring of 2007 an online survey was carried out to better understand how people determine their vote choice and form opinions about important political issues. Participants were randomly assigned to different groups in an experimental context and were then asked a series of questions.
Services
The types of customized services include the following:
Artwork. Creation of professional looking web designs including header image, footer image, buttons, and colour scheme.
Accessibility. Web pages are designed to be as accessible as possible for all web-enabled devices.
Security. Surveys are hosted on a secure server.
Login control. Access is managed via unique username/password credentials. Where an e-mail address is used as the username, participants who forget their passwords may have their passwords e-mailed to them.
Invitations. Provide tools for researchers to manage invitations to prospective and active participants.
Analysis-ready data. Researchers are provided with data in SPSS or Stata format ready for analysis (complete with variable labels, value labels and missing values).
Also from this web page:
Managing Editor
---