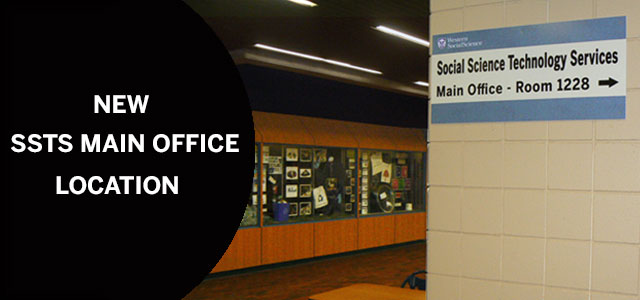 On March 26th, 2015 we celebrated the Grand Opening of our new main office with an Open House. Our new location is in SSC 1228 located directly across from Geography's glass display case. As before, you can reach us through our central number at 519-661-2152 or extension 82152 or via ssts-help@uwo.ca. More...
Colour Document Camera

Thanks to the Social Science Student donation fund, we were able to purchase an Epson ELDPC11 colour document camera for Social Science faculty, staff and students to use. The document camera is the latest way to add interactive and exciting visual technology to your presentation. More...
MS OneDrive for Students

NEW! OneDrive is part of Western's Microsoft Office 365 deployment for all students. OneDrive is a place where you can save, store, sync and share files. In OneDrive, documents can be created and modified on the fly. It also allows for version tracking and collaboration. Student OneDrive accounts have a storage quota currently at 1 TB. To learn more, try this Getting started with OneDrive tutorial.
A Peek at Windows 10

Windows 10 was released to the public July 29, 2015.

If you are a Windows 8 user, you will notice that the Start menu is back.

More...

Migrating Graduate U: Drives

With the addition of OneDrive and the need to retire an aging server, graduate student U: drives will be migrated to H: on SSC-Venus. We are currently targeting this migration for the end of February. More...
Computer Replacement Cycle

The Faculty of Social Science has over 900 desktop computers and laptops that are actively being used on the Social Science Network. Social Science Technology Services is managing a five-year desktop computer replacement plan. More...

New Lenovo Tiny Computers

The last few bulk computer purchases by Social Science Technology Services were of the new Small Form Factor Lenovo ThinkCentre M Series Tiny Desktop computers. We conducted multimedia benchmark testing before deploying any of the Tiny desktops. More...
Old Computers?

We will pick up your old computer or laptop, take the useful parts out (i.e., power supply, RAM, etc.) and dispose of the rest in the UWO asset disposal bin. The hard drive will be destroyed for the security of your data.

Did You Know?

We have mobile media equipment that can be borrowed when classroom media equipment is either not available or not functioning. See details...

Software News!

You are entitled to install Microsoft Office on up to FIVE personal devices through the Microsoft Campus License Agreement. Find out how...